▶

4 th century


Milvian Bridge, 312
Cibalae, 316
Mardia, 316
Adrianople, 324
Hellespont, 324
Chrysopolis, 324
Nisibis (1st), 338
Singara, 344
Nisibis (3rd), 350
Mursa Major, 351
Mons Seleucus, 353
Amida, 359
Pirisabora, 363
Maogamalcha, 363
Ctesiphon, 363
Maranga, 363
Samarra, 363
Noviodunum, 369
Marcianopolis, 377
Ad Salices, 377
Adrianople, 378
Save, 388
Frigidus, 394
▶

5 th century

▶

6 th century


Amida, 502-503
Apadna, 503
Dara, 530
Satala, 530
Callinicum, 531
Ad Decimum, 533
Tricameron, 533
Rome (1st), 537-538
Antioch, 540
Rome (2nd), 545 - 546
Petra, 551
Sena Gallica, 551
Taginae, 552
Mount Lactarius, 553
Volturnus, 554
Melanthius, 559
Dara, 573
Melitene, 576
Sirmium, 580-582
Solachon, 586
Thessalonica, 586
Martyropolis, 588
Araxes, 589
Blarathon, 591
▶

7 th century


Viminacium, 601
Antioch, 611
Jerusalem, 614
Thessalonica, 615
Ophlimos, 622
Constantinople, 626
Nineveh, 627
Mutah, 629
Firaz, 634
Wadi al-Arabah, 634
Ajnadayn, 634
Damascus, 634
Marj-ud-Deebaj, 634
Emessa, 635-636
Yarmuk, 636
Jerusalem, 637
Aleppo, 637
Iron Bridge, 637
Heliopolis, 640
Babylon, Egypt, 640
Alexandria, 641
Nikiou, 646
Phoenix, 655
Constantinople, 674-678
Syllaeum, 677
Ongal, 680
Sebastopolis, 692
Carthage, 698
▶

8 th century


Anchialus (1), 708
Constantinople, 717-718
Akroinos, 740
Sardis, 743
Marcellae (1), 756
Rishki Pass, 759
Anchialus (2), 763
Berzitia, 774
Nicomedia, 782
Marcellae (2), 792
▶

9 th century


Krasos, 804
Heraclea, 806
Sedica, 809
Pliska, 811
Versinikia, 813
Adrianople, 813
Syracuse, 827-828
Crete, 827-828
Palermo, 830-831
Dazimon, 838
Amorium, 838
Messina, 843
Mavropotamos, 844
Damietta, 853
Castrogiovanni, 859
Rus Raid, 860
Poson, 863
Bathys Ryax, 872
Syracuse, 877-878
Boulgarophygon, 896
▶

10 th century


Taormina, 902
Thessalonica, 904
Anchialus, 917
Katasyrtai, 917
Pegae, 922
Constantinople, 941
Andrassus, 960
Crete, 960-961
Aleppo, 962
Rometta, 964
Tarsus, 965
Antioch, 969
Aleppo, 969
Arcadiopolis, 970
Dorostalon, 971
Amida, 973
Pancalia, 978
Aquae Saravenae, 979
Trajan's Gate, 986
Abydos, 989
Orontes, 994
Spercheios, 997
▶

11 th century


Thessalonica, 1014
Kleidion, 1014
Cannae, 1018
Azaz, 1030
Edessa, 1031
Rometta, 1038
Olivento, 1041
Montemaggiore, 1041
Monte Siricolo, 1041
Ostrovo, 1043
Constantinople, 1047
Kapetrou, 1048
Hades, 1057
Bari, 1068-1071
Sebastia, 1070
Manzikert, 1071
Nicaea, 1077
Calavrye, 1079
Dyrrhachium, 1081
Larissa, 1084
Levounion, 1091
Nicaea, 1097
▶

12 th century


Philomelion, 1117
Beroia, 1122
Apulia, 1155
Brindisi, 1156
Myriokephalon, 1176
Hyelion & Leimocheir,1177
Thessalonica, 1185
Dimitritsi, 1185
Constantinople, 1187
Tryavna, 1190
Morava, 1191
Arcadiopolis, 1194
▶

13 th century


Constantinople, 1204
Adramyttium, 1205
Koundouros, 1205
Attalia, 1207
Antioch on Meander, 1211
Rhyndacus, 1211
Poimanenon, 1224
Thessalonica, 1224
Klokotnitsa, 1230
Constantinople, 1235
Rhodes, 1249
Adrianople, 1254
Pelagonia, 1259
Constantinople, 1260
Constantinople, 1261
Prinitza, 1263
Thessalonica, 1264
Makryplagi, 1264
Neopatras, 1274
Demetrias, 1274
Pharsalus, 1277
Devina, 1279
Berat, 1281
▶

14 th century


Bapheus, 1302
Skafida, 1304
Apros, 1305
Rhodes, 1309
Bursa, 1317-1326
Pelacanon, 1329
Nicaea, 1328-1331
Nicomedia, 1331-1337
Bosporus, 1352
Didymoteichon, 1352
Gallipoli, 1354
Adrianople, 1365
Gallipoli, 1366
Philadelphia, 1390
▶

15 th century

Battle of Dorostalon

(Dorystolon)

971

13 Apr-21 Jul 971

The Byzantines under Tzimisces besieged and took the fortress from the Rus

★ ★ ★

★ ★
Enemy:

Rus

Location:

Dorostolon (modern Silistra, Bulgaria, on the Danube)

Battle Type:

Fort Capture

War:

Byzantine-Rus Wars

Modern Country:

Bulgaria
▼

The Byzantines(emperor: John I Tzimiskes)

▼

The Enemies
Commander:
Emperor John I Tzimiskes
Svyatoslav I of Kiev
Forces:
30,000 + 300 ships
50,000
Losses:
350 (?)
15,000 (?)
Background story:
During the course of the Russo-Bulgarian war, Svyatoslav I of Kiev overran the eastern part of the First Bulgarian Empire and established his capital at Pereyaslavets on the Danube. Once John I Tzimiskes usurped the throne, the Byzantines launched a counteroffensive. After they defeated the united Russo-Bulgarian-Pecheneg forces in the Battle of Arcadiopolis and recaptured Pereyaslavets, Svyatoslav was forced to flee to the northern fortress of Dorostolon, on the Danube river.

The Battle: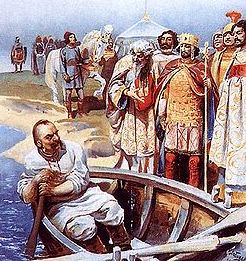 Svyatoslav leaving Dorostolon

The Emperor laid siege to Dorostolon, which lasted for sixty five days. His army was reinforced by a fleet of 300 ships equipped with Greek fire.There were several engagements before the walls of the city; these demonstrated to the Byzantines that the Rus lacked skill in cavalry warfare. Among the casualties were the Emperor's relative, Ioannes Kourkouas (whose severed head was displayed by the Rus from one of the towers).
The Rus and their Bulgarian allies were reduced to extremities by famine. In order to appease their pagan gods, they drowned prisoners and even babies in the Danube, but the sacrifices did not improve their position. As their hardships became intense, 2,000 Rus warriors (including some women) sallied out at night, defeated a Byzantine force and went in search of supplies to the Danube; they later rejoined the besieged.
The Rus felt they could not break the siege and agreed to sign a peace treaty with the Byzantine Empire, whereby they renounced their interests towards the Bulgarian lands and the Byzantine city of Chersonesos in Crimea. Svyatoslav bitterly remarked that all his allies (Magyars, Pechenegs) betrayed him during this decisive moment. He was allowed to evacuate his army to Berezan Island, while the Byzantines entered Dorostolon and renamed it Theodoropolis, after the reigning empress. Svyatoslav on the way home was killed by Pecheneg Turks at the Dnieper .

Aftermath:
On his return to Constantinople, Tzimiskes celebrated a triumph, built as thanksgiving the Church of the Chalke, divested the captive Bulgarian Emperor Boris II of the Imperial symbols, and proclaimed Bulgaria annexed.